Victoria's flood crisis is far from over as communities across the state face more rain and slowly receding rivers.
Core items:
Emergency authorities say the Murray River has peaked at Echuca
Communities already affected by flooding have experienced heavy rains
The raging Murray River is expected to impact cities further west through November
The Bureau of Meteorology said significant rain fell overnight in the north and northwest of the state, with thunderstorms expected today.
Lead Meteorologist Kevin Parkyn said the severe weather warning for heavy rain for the Otways and parts of north Victoria had been lifted, but there were significant falls late Sunday and into Monday.
"We have seen rainfall totals of 10 to 30 millimeters in parts of western and northern Victoria and also locally in Gippsland. Some of those higher totals of 30 millimeters fell at Echuca and Kerang," he said.
"This is in addition to the major flooding that is already occurring in these locations."
Forecasters have predicted heavy rain in Gippsland on Tuesday, which could cause rivers to surge in that part of the state.
Mr Parkyn said this month will likely be one of the wettest Octobers in Victoria.
In Echuca and Moama, where flood waters had already exceeded the levels of the 1993 floods, the Murray River was allowed to creep even higher.
Tim Wiebusch, SES chief operations officer, said the river was 94.89 meters above sea level as of 11:30 a.m. Monday.
"There's still a bit to go, the bureau tells us. It could get up to 95 meters during the day today," he said.
Mr Wiebusch warned communities along the Murray River between Swan Hill and Mildura to expect at least minor flooding in the coming weeks.
"Victoria is still in the midst of a flood emergency and we are seeing all phases of the emergency unfolding here in Victoria, be it preparedness, response and recovery," he said.
The Loddon River peaked in Kerang over the weekend but is expected to remain at high levels for days to come.
The communities of Shepparton, Mooroopna and Kialla West are continuing their clean-up efforts, with the SES "confident" that water levels in the area have peaked.
Sandbagging efforts continued late Sunday evening around Barmah and Lower Moira while impact crews finished work at Murchison, Benalla, Euroa and Seymour.
The community comes together as the tide peaks in Echuca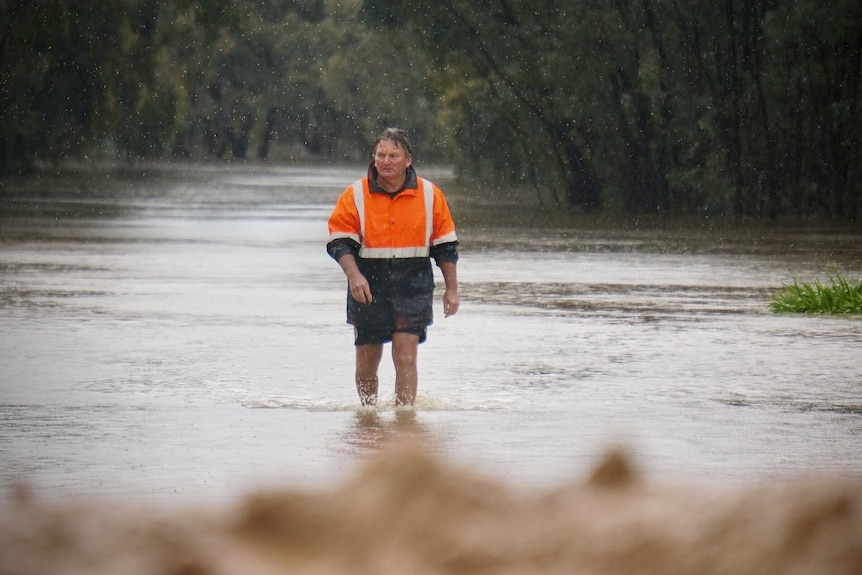 Valerie Myers is one of the residents of Echuca who has a constant battle against flooding.
Her house is on the other side of the city's flood levee, and when she stands up she can see the flood water swallowing up most of her driveway.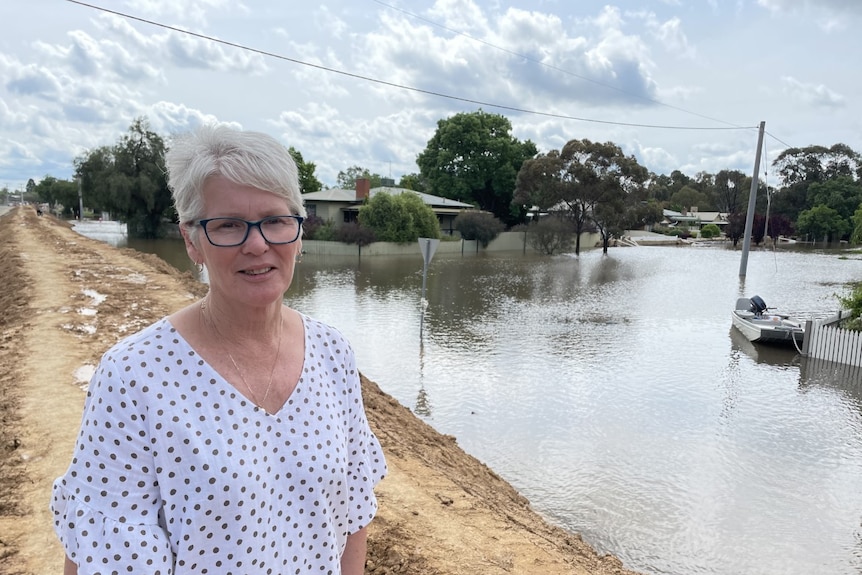 Ms Myers left her home on Saturday to get supplies and when she returned the street was full of volunteers collecting sandbags and working to protect her home.
She said the local community's preparedness left her speechless as friends and neighbors worked 24 hours a day over the weekend to protect the home.
"They all take shifts in there all the time to try and pump out some water to keep it off our yard," Ms. Myers said.
"People I didn't know, some people I knew… we couldn't get through this without this community, our family and our friends. It's amazing.
"We're the lucky ones because our house will pull through, and there are some that don't and some that didn't."
Two cities united
A major effort has been made at Swan Hill in north-west Victoria to assist flood-stricken residents in neighboring Gannawarra Shire, which includes Kerang.
A relief center at the Swan Hill basketball courts is assisting dozens of people who have evacuated the area, with some local businesses donating supplies.
Swan Hill SES and community volunteers worked around the clock over the weekend to fill 5,000 sandbags to be distributed in Kerang.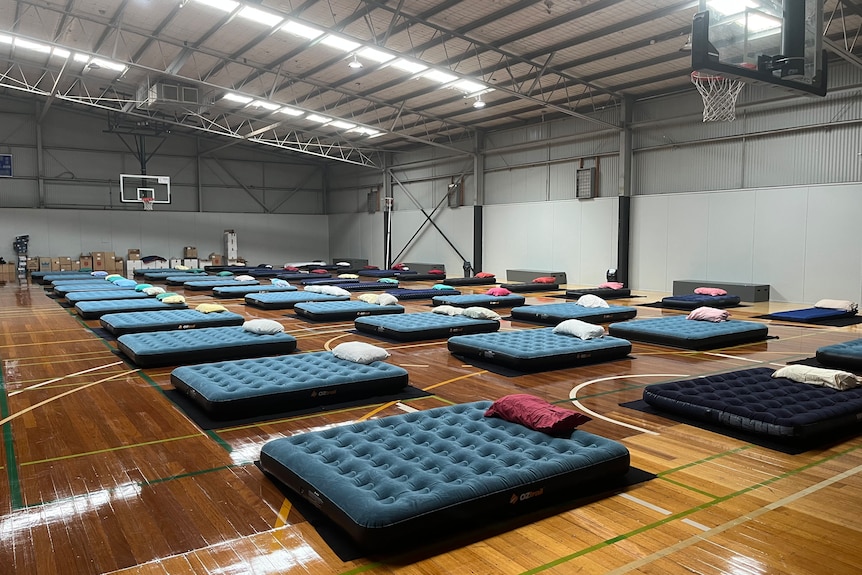 Swan Hill Municipal Emergency Management Officer Simon Burge said the community had come together to offer support at a difficult moment.
"It was just great. People really pull together in a time of need like this," Mr Burge said.
"The generosity of the people was absolutely amazing. The people of Swan Hill really went out of their way to help."
Gannawarra Shire Mayor Charlie Gillingham said the sandbags were "well appreciated and put to good use".
"We definitely thank the community there at Swan Hill and will no doubt support them when the water comes up there," he said.
Loading form…