April in Mid-MO generally means a chance of thunderstorms, and we won't be short of them for the next few days. Along with the thunderstorms, April temperatures will be quite warm, with highs reaching into the 70's and even into the 80's.
SUNDAY
Temperatures are taking a leap from yesterday, with highs going well into the 70s. Some places in western Missouri could date back to the 80's this afternoon.
Temperatures will be helped by the return of breezy conditions. Wind gusts could approach 35mph today. These winds will be from the south which will help push our temperatures into the 70's.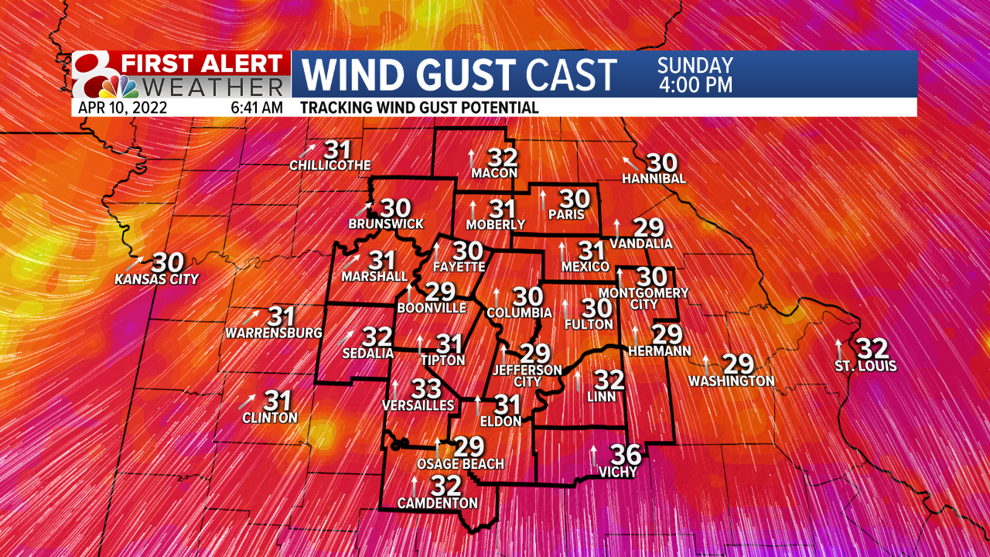 If you have any plans on Sunday during the day they will be fine. The clouds will increase in the course of the afternoon, but there will be no risk of thunderstorms until after sunset.
SUNDAY NIGHT
We are in a storm mode 2 (scale from 0 to 5) for tonight until tomorrow morning. This means there might be some issues and you should keep us posted.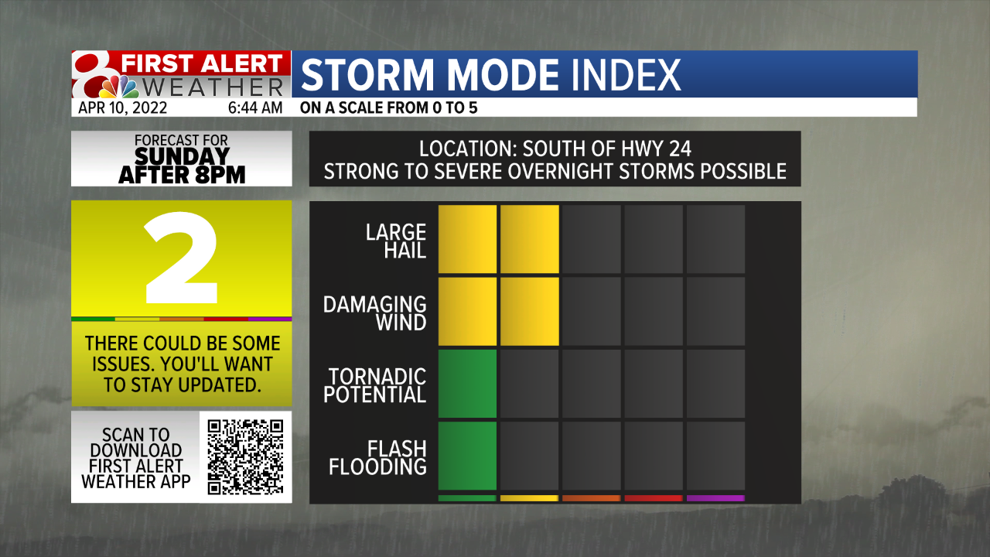 After sunset, scattered thunderstorms will begin to develop along a cold front roughly along and south of Highway 24. These storms could produce large hail and damaging winds, a tornado cannot be ruled out, but the threat is low. Not everyone will see a storm, this threat is isolated.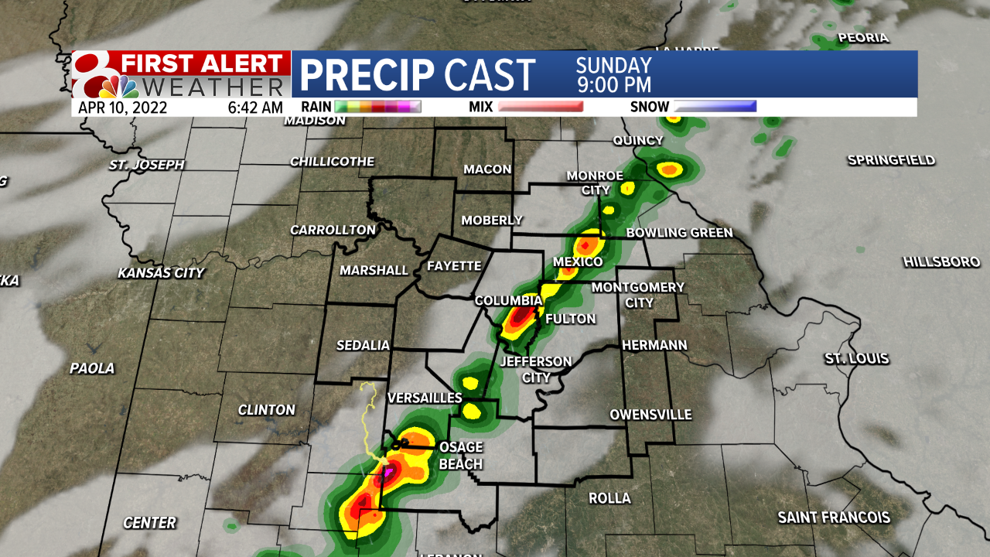 Storms become more frequent south of I-70 around midnight, although the serious threat diminishes in the early hours. These will be loud storms with frequent lightning and thunder.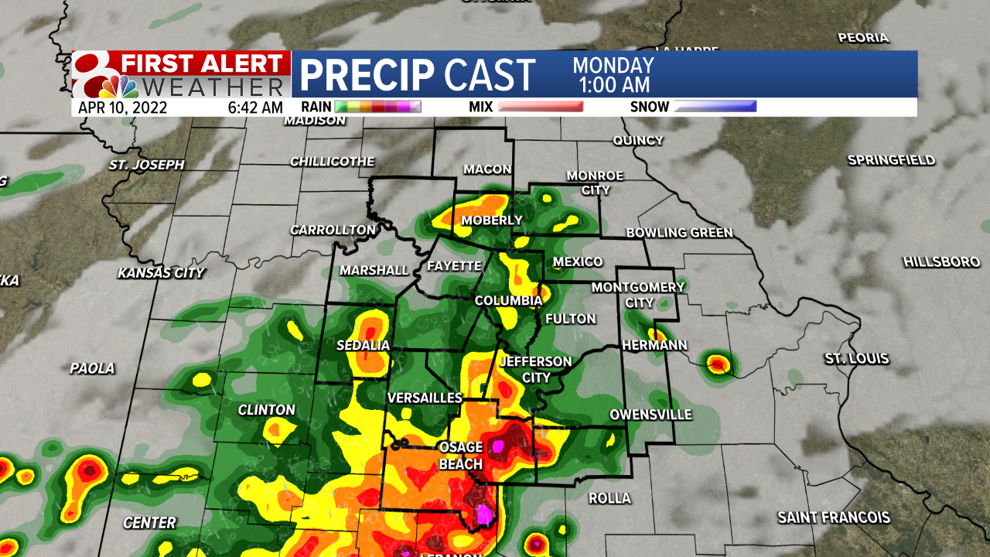 In the morning rush hour we will see persistent showers but the risk of thunderstorms is off from the south and east. These showers could continue into the early hours, but nothing in the way of thunderstorms.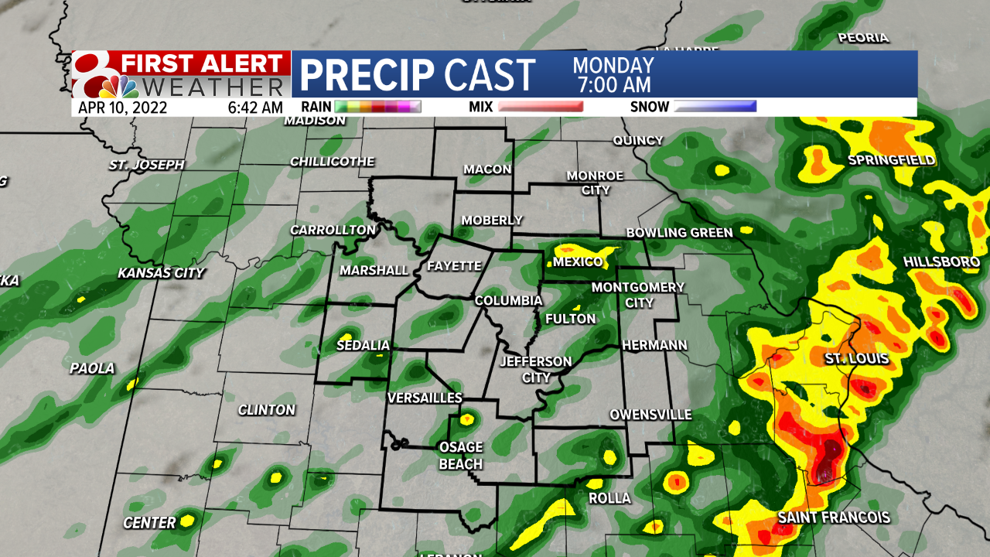 TUESDAY WEDNESDAY
Once Monday's rain subsides, there will be a lull in thunderstorm activity between Monday afternoon and Tuesday night. This will allow temperatures to soar into the 80s for most of Mid-MO on Tuesday, so it will be quite warm.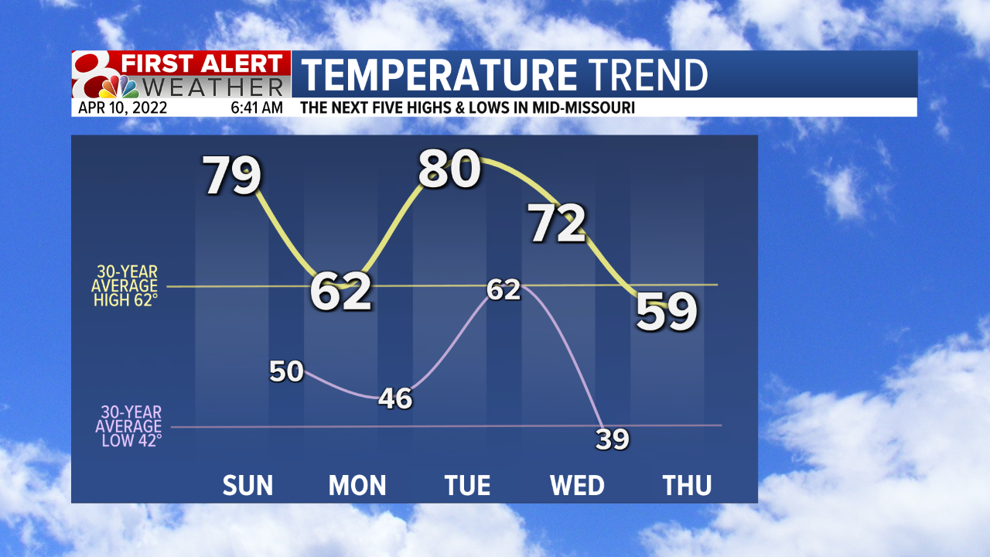 Attention is focused on the West, where there is an increased risk of severe weather, including Kansas City. These storms will approach central Missouri after sunset. When these storms will develop is not entirely certain at this time, some could be strong to violent during the night hours.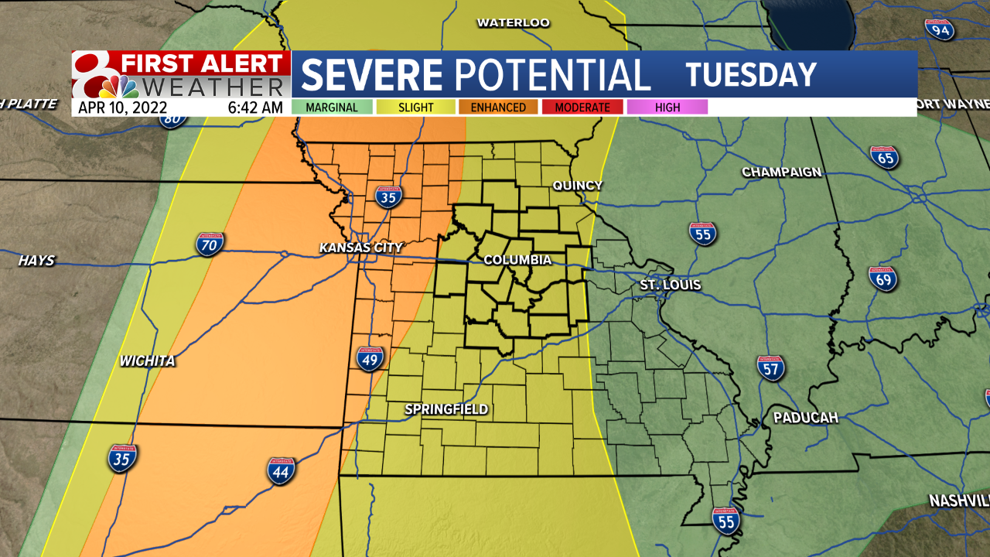 Our biggest chance for thunderstorms comes on Wednesday as the cold front advances into Missouri. These thunderstorms can be strong to violent.
It is important to note that this is still 4 days away, a lot will change. For example, there are questions about when exactly the thunderstorms will develop. This question is crucial for the intensity of these thunderstorms. Definitely something to keep an eye on, but nothing to panic about. Stay tuned to KOMU 8 as we get closer to the event for more details to be clarified.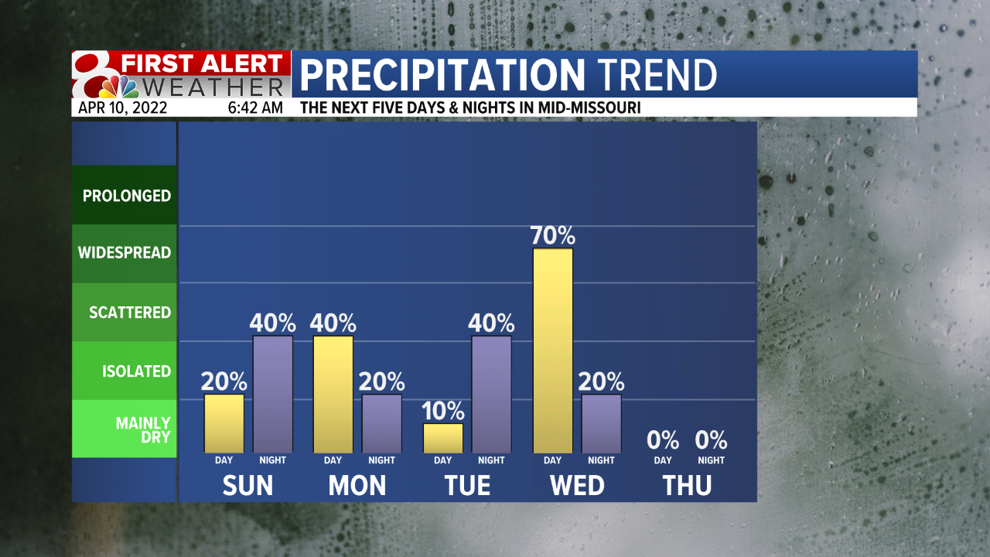 THURSDAY-WEKEND
Once the front moves into Wednesday, a much calmer weather pattern will set in. Temperatures cool into the 50's and 60's for highs, 30's and 40's for lows.
A slight chance of rain is possible until the Easter weekend, otherwise Easter will be rather cool with highs in the upper 50s.